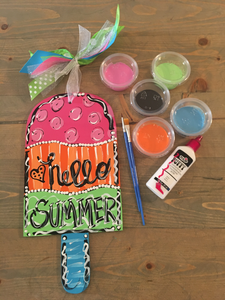 Who loves a summer time SWEET TREAT??? Welcome Summer with this super cute popsicle kit that includes everything needed to complete this project...
Each contains:

-1 6" x 12" popsicle mini door hanger with coordinating ribbon for hanging
-5 acrylic paint colors (in separate paint pots) + 1 (2 oz.) bottle of white acrylic paint
-2 paint brushes
Each kit comes with painting instructions and the popsicle will have drawn lines, if desired.
Front Porch pickup is always free or standard rate shipping is available