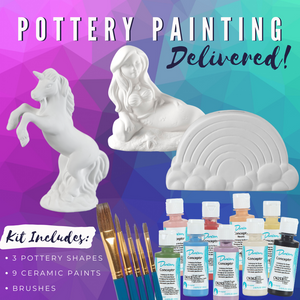 Bisque:
Unicorn
Mermaid
Rainbow Bank
(9) 2 oz. Underglaze Bottles in:
Red
Orange
Yellow
Green
Blue
Purple
Pink
Tan
Black
Shipping costs are included in the price of the kit. Please allow up to 5 business days for kits to ship
Return your Painted Bisque to us for firing. Pickup your fired pieces in 7 to 10 days...