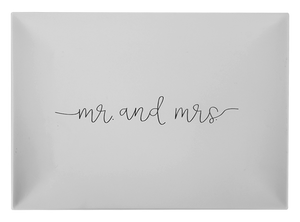 We have the perfect wedding platter for you! Check out our ColoringBook Bisque™ Mr. & Mrs. Platter! No need to stress over fancy writing, we have it already done for you! This platter is great for adding signatures to at weddings! Have everyone sign around the already pre-fired "Mr. and Mrs.". You can also personalize with wedding colors and other patterns and decorations around the ceramic platter. The possibilities are endless!
This platter measures 14¼" L x 10¼" W x ¾" H
After purchasing email me at brushstrokesmobileartstudio@gmail.com with your color choices 
Please allow 2/3 weeks for your custom order....
Free Front Porch Pickup in Carrollton, GA or Flat Rate Shipping