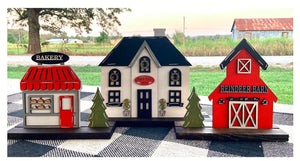 This is a CHRISTMAS DEAL!!! All 3 PIECES!!!
House measures 12"x12"
Barn measures 7"x10"
Bakery measures 7"x9"
These are dimensional pieces containing a mixture of stain and paint, which will be hand painted and may vary some from the photos....
Each pieces comes painted and with stands 
Please allow 3 to 4 weeks for your custom order....
Free Front Porch Pickup in Carrollton, GA or Flat Rate Shipping