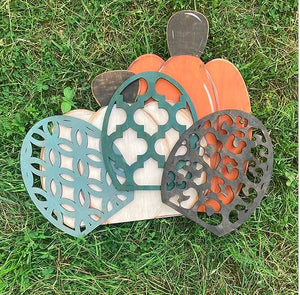 This will Look PERFECT on the Front Porch or in your House!!! 
And the small Pumpkin comes with an OVERLAY with 3 OPTIONS!!!
This is a dimensional piece containing a mixture of stain and paint, which will be hand painted and may vary some from the photos....
The Large Pumpkin is 15x21" and the Small Pumpkin is 17x16". This is a set and comes with a pattern overlay for the small pumpkin. Please select from the choices in the dropdown...
Please allow 3/4 weeks for your custom order....
Free Front Porch Pickup in Carrollton, GA or Flat Rate Shipping